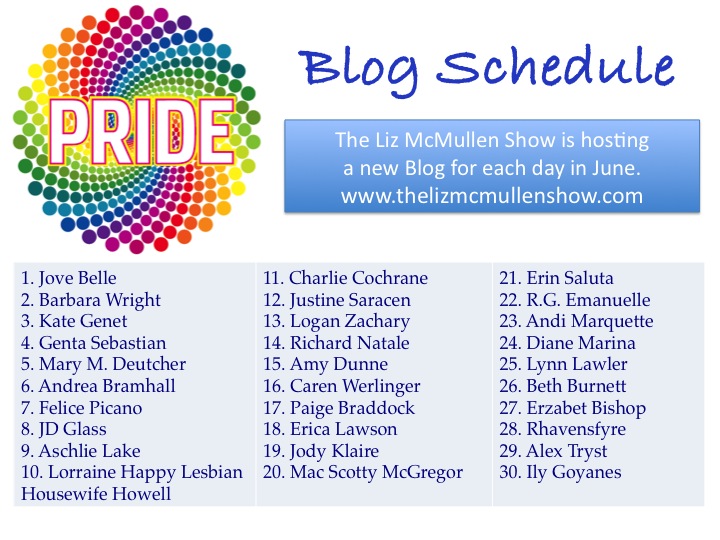 Click on the name of the author to go to their blog: Jove Belle, Barbara Wright, Kate Genet, Genta Sebastian, Dutch, Andrea Bramhall, Felice Picano, JD Glass, Aschlie Lake, Lorraine Happy Lesbian Housewife Howell, Charlie Cochrane, Justine Saracen, Logan Zachary, Richard Natale, Amy Dunne, Caren Werlinger, Paige Braddock, Erica Lawson, Jody Klaire, Mac Scotty McGregor, Erin Saluta, R.G. Emanuelle, Andi Marquette, Diane Marina, Lynn Lawler, Beth Burnett, Erzabet Bishop, Rhavensfyre, Alex Tryst, and Ily Goyanes.
The Liz McMullen Show Pride Blog Series Giveaway Winners:
Ameliah Faith, Amy, Angelique, Cheryel Matthews, CW, Dutch, Gena R., Georgi Badakhshan, Henriette, Lisa T., Lorraine Howell, Maya, Melissa, Melissa Moir, Nicki, Sarah Byrnes, Smokey, Susan Wagner-White, Suzanne Harding and Taja Rack.