Northern Gay Pride
Living in Minnesota or anywhere in the Heartland, we are considered to be living in the fly over territory.  I know we have our snow from October to May, and thick wilderness, but I feel that adds depth to our characters. Being the Land of Ten Thousand Lakes, there are ten thousand beautiful playgrounds for campers and boaters, but the mosquitoes can breed like crazy. Life can be difficult when the wind blows forty below zero and the car battery won't start your car and you have to get to work.
That is why most of my stories are set in Minnesota and Minneapolis.  In Calendar Boys, I have a hockey story with "Pucking Prince Charming", the Wabasha Caves held bootleggers and "The Grandfather" takes place there, "Public Displays of Affection" show how progressive the Minnesota Institute of Art is, a Halloween story that takes place in down Minneapolis in "Jay of the Dead", Lumberjack Days of Stillwater, MN are also seen "Lumber Jack Off".  Deer hunting and construction are two popular and unpopular events of the Minnesota year.
And then I wrote a mystery set in Duluth, MN. During Halloween, what would happen if a wolf attacks?  Would the victim turn into a werewolf?  In Big Bad Wolf, Paavo Wolfe owns We're Wolfe's Books, the place to go for Lake Superior's horror book and movie aficionados. His best friend, Stacey, own Lotions and Potions next door. When a wolf attacks two of Stacey's employees, against all reason, they begin to suspect that one of the victims is turning into a werewolf. As they struggle to find the truth, they dodge a nosy news reporter, an ex-partner detective assigned to the case, a drug selling boyfriend, and too many friends trying to help solve the crime before things become really hairy. Can Paavo solve the mystery before he runs into the Big Bad Wolf?
GingerDead Man is the next Bold Stroke Book which sees Paavo and Stacey trying to survive the fall season as it turns into winter as a baker is found in his own oven.  The heat is being turned up, and Paavo and Joe need to trust each other before their lives explode into flames.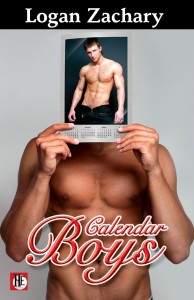 So I have pride in my state, and I have pride in my stories.  Minnesota has made it legal for two men or two women to marry and that makes me proud to live in a progressive state.  June is Pride month here in Minnesota and Loring Park is full of many happy people celebrating our freedom and Pride.
Contact Logan: Website, Email (LoganZachary2002@yahoo.com) and Facebook.
Leave a comment here to enter the book giveaway to win a copy of Calendar Boys or Big Bad Wolf. Both winners will be announced on July 7th!