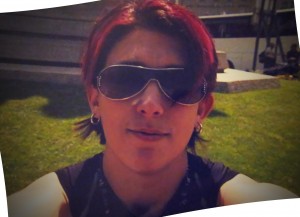 Seeing Stars
A blog of pride and courage
When I saw the call for stories celebrating pride, I knew exactly what I wanted to write about. The story of Hannah Jung is one that I think will be familiar to the reader. A woman who has made a success in the music business who witnesses a media backlash against her friend and bass player Alex. That makes Hannah's bravery in the story, (at least, I hope it will) seem even more uplifting.
Which is what leads me to the subject of my blog, courage. It's used a lot for those who charge into the heat of battle or enter a burning building to save another. It's used to describe those who face live-threatening illness, overcome physical, mental and emotional challenges. (and quite rightly too.) The courage to stand up against the wrongs of the world, the courage to change the world, the courage to say no when everyone else is saying yes.
All of them inspire an admiration for the individual and groups involved.
Today however, I want to take about a type of courage that is often overlooked and most of the time frowned on, (at least at first,) and that is the courage to be who you were truly meant to become. It takes a massive amount of courage to do that when the eyes of the world are glaring at you.
One of my all-time heroes is Amélie Mauresmo, I've been lucky enough to watch her play and even luckier to get her scribble. I am going to use her as my example because, well, I can and she's super-cool.
Unless you lived under a rock for fifteen years (wow, where'd that time go?) A nineteen-year-old told the world a simple fact that she was in love and happy. As a sixteen-year-old, I was happy that she was happy and thought nothing of it…  Wow, were we both naive!
I can still remember some of the article in the paper my parents bought. How this too-strong girl had fallen victim to the dark and run off with an evil older woman. A temptress who had torn her away from her distraught parents. Not only that they were flaunting it. There were comments from insiders saying how the clearly bewitched Amélie had dared to… wait for it… hold hands! (Yes, I know… take a seat, breathe deeply… it's a shock… better?)
Yes, as teenage rebellion, criminal behaviour and immoral attitudes went, Amélie was the pinnacle. All this coming from a generation of reporters who lived through the sixties and lauded rock stars. As a teenager I was quite confused how it was okay to like rockers who bedded hundreds of women and spent most of their lives in and out of rehab yet be shocked by a young woman holding hands with her girlfriend. It still confuses me, but then I hope it always will.
Amélie, I'm sure couldn't have known what would happen. I doubt if she understood the impact her words would make or understood some of the nastiness that got directed her way. Here's where the courage comes in and is one of the very reasons that she is my ultimate hero. Amélie got on with it. She took the insults, put up with intrusive questions, including a very persistent Italian reporter."What do you do when you are not playing? Where do you eat? Who are you in love with now?" Amélie replied in her cool, witty manner. "I'm really in love with an Italian journalist."
She dealt with being brushed aside onto smaller courts in favour of the players who fit the box. There was not just pressure from the media however, suddenly she was supposed to be an advocate for 'team gay.'
To her credit, she ignored it all and concentrated on being who she was. No matter who was pulling her to change, she didn't. The team around her and her coach pretty much stayed the same right up until the last year of her career. I cannot imagine how hard that was not to bow beneath the pressure.
With all that happening, Amélie still achieved incredible heights and as a fan, watching her win the Masters in 2005 (on TV) was incredible. It speared her on to winning two grand slams numerous tour events and all without apology, without anger or bitterness. Nope, Amélie did it all with a smile on her face. Her Reebok slogan was 'I am what I am.' And when she bowed out of playing, her mother and the Stade de Coubertin at her side, it was clear how dearly she is loved. A successful coaching career has followed and she is now in charge of the French Fed Cup team all the while keeping her personal life where she prefers it. Amélie embodies the essence of being happy in her own skin. No apologies, no regrets, just her.
So, when I thought of my story, I thought about those stars like Ellen Page who watched those events unfold. Those who watched Ellen DeGeneres, Martina Navratilova  who watched how all those who came before them were treated. I tried to imagine Hannah knowing the sheer depths plummeting below her as she stood up on that ledge. How alone that moment could make her feel, how everything she had worked for could drop into oblivion with her next words. Courage. Hannah having the guts to step forward and open her arms, I wanted the story to ignite that spirit in all who read/heard it.
That's where the title comes from, 'Seeing Stars,' something we all do when we look up into the night sky. Seeing stars of any kind radiate their innermost truth guides all those who look up. Some stars seem lonely up in the night sky, perhaps they can't see through the darkness around them to understand that impact.
It doesn't really matter what that truth is. Being yourself, whoever you are, is not always easy. Being yourself means that some people are not going to like you, there are always critics. Being yourself means facing the worst critic of all who lurks beneath your skin. Yet, when we see someone overcome the things thrown at them and come out the other end happy and smiling, their light helps to guide us on.
I guess the best thing about courage is summed up by a verse of scripture from my favourite gospel. John says it best in chapter eight, verse thirty two.
'Then you will know the truth, and the truth will set you free.'
Contact Jody: Website, Facebook and Twitter.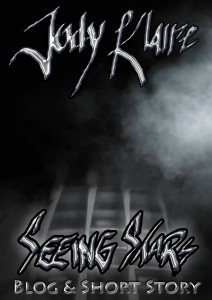 Jody is hosting a book giveaway. Though she is a bit more demanding than the other bloggers. You have to answer one of these three questions correctly to enter the drawing:
1. – What is Hannah allergic to?
2. – What does Alex play?
3. – Who is my favourite tennis player?
The winner will be announced on July 7th!
Jody wrote a short story for Lizzie's Bedtime Stories Pride Special. Her reading will post to my website on June 25th. You can read a free copy right now, how cool is that!