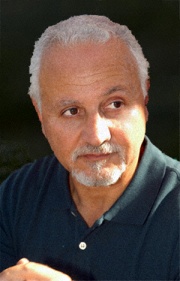 What? More True Stories?
My publisher will confirm how very surprised and even tickled I was by the mostly very positive response from readers, reviewers, and critics to my collection, True Stories, when it came out three years ago. I mean after all, it was kind of a thrown-together book. Sure, I'd been writing the pieces in it for a very long time, and I had added to, taken away from, updated, and polished them as well as I could from their original places in magazines, newspapers, and books. Even so, I kept asking him "Did you expect this kind of response?" I hadn't at all. Talking to me about the book when I did appearances for many months after, people would become so passionate! Each told me their favorite and least favorite, their most puzzling and often the most affecting chapter for them. They'd taken the book personally, as well as seriously. One section was picked by author Peter Dube for his annual Best Stories anthology. Every writer should be so fortunate.
All that would be excuse enough to provide another volume. However, like many of the bio-essays already published in that book, I've been working on the bio-essays in this volume for just as long, only not completing most of them as I had with the others until recently. Or thinking I had but not really.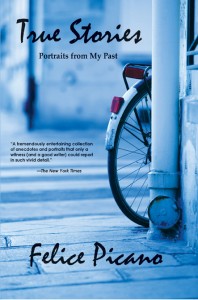 A few of these were eventually published; usually in vastly shortened and usually quite different form. Except for "Uneasy Spirits." That piece I believed was done and it was even included in an anthology. And then new information arrived and it became truly complete– several years after. You'll understand why when you read it. Another piece on the artist Miles Parker—"Recovery Artist" — began as an article/interview in a magazine devoted to people with HIV. However time, distance, and then an onslaught of unexpected events in Parker's life altered that more or less innocuous piece into what you will read here.
Those were changed and added to because, like the pieces in that earlier volume, what is presented here in True Stories Too is not fiction, but instead "true" stories, and because life has a funny way of rewriting what you thought was settled. Several of the bio-essays here are mysteries that remain to be solved. After decades I still don't know many motives for what happened. I still don't know for certain why people did things they did. I don't at all understand how it is that certain friends ended up as they did.
You might well say I don't know as much as I do know. In writing these pieces, I'm literally essaying to arrive at some tentative conclusion, aware that more material, perhaps changing everything I've already written, could arrive the day after publication.
On the plus side, and because I have actually investigated, traveled, gone places and looked into archives and files in offices and because I've asked trenchant questions and really listened to what people answered, and because I've been unafraid of those answers, I've made some amazing discoveries: about myself, my family, other people, even about places important to me. If you hang in, you'll make them too.
So, unlike the first collection, True Stories Too is about remarkable places as well as about people — places that have had an unforgettable impact on me. Some of the critics of True Stories complained that I was still writing about my youth and my life on the east coast, and not about my life in California. A valid criticism: so included here are several pieces set in or about the west coast; one of which could be set nowhere else but. And there are others about my travels and life in and around Germany and Japan.
Even so, in my own defense: I'm a very slow learner. And, since I've moved west, people with what Fran Lebowitz calls "interesting amounts of money" simply have not been asking me for articles about California that I might use as a basis for these more in-depth writings.
I've still not written about all of the people in my life that I do want to write about. Some died too recently, or too mysteriously. There are also places I'd like to write about in depth and haven't yet except sometimes superficially in travel pieces: Iceland, Sydney, Santa Barbara, Big Sur and San Francisco, North Truro on Cape Cod, and the gay commune, Butterworth Farm in Massachusetts. All are potential subjects; as are some of their more colorful denizens.
As for why I may be writing these, I'm not sure. But in True Stories, I mentioned how my pal Jerry Blatt, "Mr. Broadway," used to quote a certain Robert Frost sonnet to me, "The Oven-Bird" in 1970. I read it and read it and still I really never understood it until very recently, in fact not until some time after I learned that one of my first literary supports and long time friend, Jon Peterson ("The Prince of Pizza") had died. An early ecologist and bio-geographer as well as poet, Frost pointed out how the habitat of the Oven Bird was altered so totally as a result of man's encroachments with farms and villages, and "highway dust … over all." Frost ends the poem:
The bird would cease and be as other birds
But that he knows in singing not to sing.
The question that he frames in all but words
Is what to make of a diminished thing.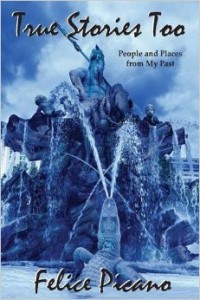 I'm beginning to think that some humans are like that bird, unable or unwilling at last to continually change and adapt and alter as the world around us continually shifts and earthquakes into unexpected new forms and horrid shapes daily. Sadly, for them there really is only one solution.
Felice is offering a signed copy of True Stories Too. Leave a comment here to enter the book giveaway. Winners will be announced on July 7th!