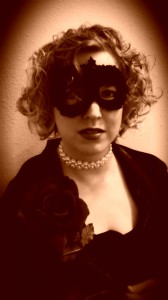 Pride and what it means to a lesfic writing straight girl:
"What's a straight girl like you doing writing lesbian fiction and f/f erotica?" I get this question so often I should get a shirt. Honestly. Do mystery writers get that I wonder? Or horror writers?  "Do you like to kill people on the weekends? That was one awesome death scene."  Insert chuckle. Not so much, thanks. I also like vampire stories…and werewolves. I do not however howl at the moon. Except after a long closing shift at the bookstore. Then I get to howl all I want all the way home. But I digress.
We write what we write because it is a part of who we are. I write in multiple genres because every single one of them is part of who I am as a person. Lesfic, horror, erotica, YA, kids' books, music reviews…I am woman hear me roar and write…a hell of a lot. Under two names in fact.
I started writing short fiction to get my feet wet as a writer. I have actually been writing since I was a child, but on again off again. My real journey started a couple of years ago. It all began after reading 50 Shades. I liked the electricity of the characters but soon discovered I wanted to see that in more of a lineup of female characters. Emotion, sex…I like it best when it's intertwined-no matter the pairing. There is beauty in love and acceptance. That to me is the definition of pride. Loving what is. The beauty of that other person looking you in the eyes and accepting you for your strengths and all of your flaws.
Sigil Fire is my first novella length piece and what a journey that was! It began as a short nine thousand word entry to a Halloween anthology for Ylva. Astrid, the amazing woman in charge liked it and wanted to see it grow. And grow it did-but so did I. As a writer. I wanted to tell a tale-not just an erotic snippet in time. While Sigil Fire has some sex, it is not as smoldering as some of my anthology offerings, or my work at Club Rook. The book goes live on June 12, 2014 and I couldn't be more excited. Just take a look at the cover art and you can see why.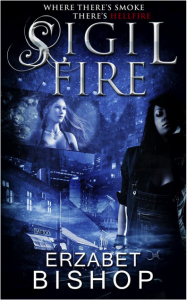 Leave a comment here to win the eBook version of Sigil Fire. The winner will be announced on July 7th!
Links: Twitter, Wix page, All Romance Books, Ylva Author Page, Naughty Nights Author Page, Unbound Box Dessert Comes First Flash Fiction, The Liz McMullen Show Episode, About Me, Facebook Author Page, Author WordPress Blog, Amazon Author Page, Fetlife, Goodreads, Pinterest, Lesfic Blog, Review Blog, LinkedIn, Author Database and Authors to Watch.