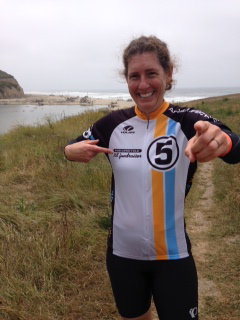 I had a mini mid-life crisis in August of 2011 and decided to sign my wife and I up for an outrageous event: the AIDS LifeCycle ride. What did I know about the ride? Nothing except that it sounded pretty cool in Susan X Meagher's "I Found My Heart in San Francisco" novel and yes I am crazy enough to want to do something because I read it in a book! (I love reading thanks to a Librarian for a mother and an English teacher for a father!) That and I would need a new bike- my one speed town cruiser was not going to work for 545 miles, up and down hills. The first step was done though, I had made the financial commitment of $80 to see if I could raise $3000 and train for a bike ride starting in San Francisco and ending in Los Angeles in a little under 10 months. That's where it starts, just saying, "Yes!" Of course its easy to find an excuse not too do something but where is the fun in that? Where is the challenge? Where is the experience? The memory? The story to tell? Say "Yes!" and just try something- just like the Jim Carey movie. It really does work. I will admit it can be hard and various reasons almost side-lined me this year: my wife would be deployed so I would be riding solo, I had two severe injuries in the Spring that impacted my training, it's hard to put out the request for a third year in a row asking for donations and, and, and…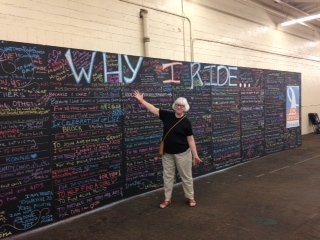 This ride was going to be different than my previous two but should i still do it? I knew I wasn't as physically sound as I had been, I was bordering on potentially injuring a not entirely healed injury, and I was going to have to break out of my introverted tendencies and do this without the presence of my wife by my side (translate into sharing a tent with a stranger!). That may not sound like much but three weeks before the ride was scheduled to begin I was on the phone with my cycle rep checking my options and the potential for getting out. It was the closest I had ever come to quitting a challenge and I have to be honest I didn't like the feeling. I didn't like the idea of having to break that news to all the wonderful friends and family who had made financial donations and I especially didn't like the idea of breaking it to my mom who was flying out to experience parts of the ride for the first time.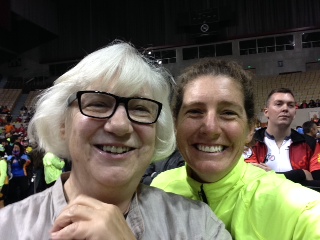 Since I first told my family about this crazy bike ride that I would be undertaking, my mom has been my first and biggest donor. She praises my willingness to do this physical feat but also that it helps so many. You just have to know my mom and hear her voice with so much joy and excitement to know that she was fully committed to helping make as much of a difference as she possibly could and helping me be her crazy daughter. This year, I wanted her to understand what the ride was truly all about, to see how much of an impact the fundraising made, to feel the emotions in the Cow Palace the morning of Day 1 and to see the exhausted joy on all the riders' faces as they rode their bikes across the finish line 545 miles from where they started. I decided I would be riding, regardless of the challenges, regardless of the options to say "No." This ride was definitely going to be different but I would be me on it dang it!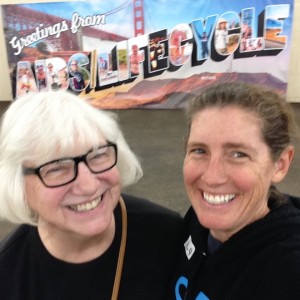 It all starts with an orientation, the day prior to the ride when all the riders drop off their bikes, watch a safety video and start the process of getting plastic bling to wear throughout the week. My mom got some bling too- a bright orange one for sitting through the safety video, and she vowed to keep it on until she saw me cross the finish line. This is also the place where I would be getting my tent mate (scary!) and tent plot, my bike number and, because I have to be typical, the band telling the food servers that I was indeed a vegetarian (stereotype!). Overall a process that took about 2 hours and my mom stood by my side the entire time soaking up all the information, taking in the sights and continuing to give me that treasured pep talk about how excited she was, how special she thought I was, and how amazing the overall process was. I love my mom for that! The real experience started the next morning though. Early. Like
4:30am early!  Opening Ceremonies started at 6:00am and to get parked and all that, well, it was early but this, of all the parts of the Ride is what I wanted my mom to experience.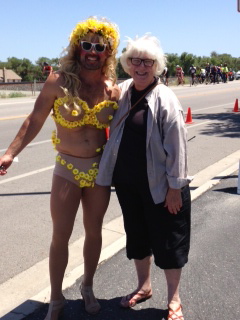 It's hard to put into words the emotional range that the participants huddled in the Cow Palace at 6:00am on a Sunday morning go through so forgive me if this doesn't convey the pride, the throat choking emotions and the butterflies. This is when the number of riders (2340) and roadies (600) is announced as well as the total amount fundraised- a record breaking $15,000,159!  It is the place where Positive Pedalers (individuals currently living with HIV/AIDS who participate in the ride with pride) walk the reasons for riding through the crowd. This is where the riderless bike is brought in, allowing all to remember that this virus has taken the lives of so many and the ride will continue until there is truly an end to AIDS. This is where all the riders give their loved ones that last hug before heading to the warehouse holding over 2300 bikes.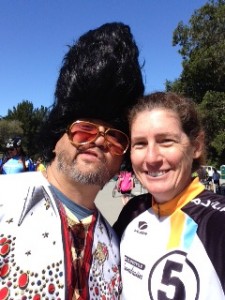 Riding out of the Cow Palace, it's hard not to have tears in your eyes and a huge smile on your face. There are SO MANY PEOPLE lining the chute all the way to the street, holding up signs, shouting encouragement , waving flags and dancing along with the pumping music *Rihanna's We Found Love* blasting through the very brisk San Francisco morning air. That was the last place I would see my mom for another 2 days and I left with the image of a huge smile on her face and lots of clapping and cheering! If I haven't said it already, I love my mom!
The ride builds a community. I mean everyone is riding with the same goal, everyone is experiencing the porta-potty shuffle, everyone is getting butt butter fixes, everyone is eating the same food and everyone is taking 7 days of not being in an office, behind a desk, at the job, or whatever in order to be there. On that ride. What is even more amazing is that there are people there who aren't officially on the ride but every day, EVERY DAY! can be found along the route holding signs, dressing up in crazy outfits and offering words or hugs of encouragement. Individuals who have been impacted by HIV/AIDS and are giving back in their own way- by making the ride even more memorable. It is part of what makes this experience so special and so incredibly memorable.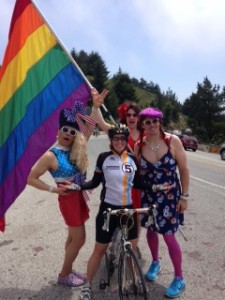 Other individuals who make the ride are the roadies- the volunteers who offer to run the rest-stops, to pile food on our plates, to set-up/break-down camps, to haul luggage, to keep us on the right route, and to physically pick us up (literally and spiritually- they are some fun people driving those vehicles!) and drive us to the next stop when we fall behind. All of them make the ride possible and without them, well, the ride would basically not be what it is. It would kind of suck. A lot. And just a note, if you are thinking you would love to be involved with the ride what about volunteering to be a Roadie? Think about it! One set of roadies in particular had the job of lifting the rider's energy when they are at the end of their day- possibly 60 to 80 miles into the total mileage for the day pedaling on reserve energy, and that is Rest Stop 4. They are one wild bunch! And I wanted my mom to see what I was talking about! So, Day 3 my mom drove to Paso Robles and then on to Mission San Miguel a California historical mission that is still actively used as a Catholic Church.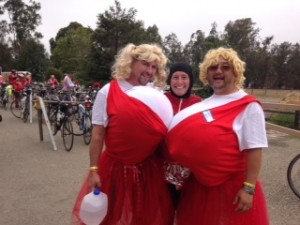 So as I was coming up to my last 15 miles of Day 3 I came upon the beautiful site of my mom standing in front of Rest Stop 4- themed Victoria's Secret, with some of the Roadies! Gorgeous! And there was even more craziness inside the courtyard including a real life Padre watching the drag show featuring "Victoria's Secrets"!
It seems the ride has just begun when it is already over. It is simultaneously the slowest week and the fastest week. With each pedal that my body didn't think it could do, time seemed to drag by and the next rest stop could not arrive soon enough, but at camp that night the pain was forgotten and excitement for the next day's challenge was fueling the adrenalin. The evening of Day 6 though is a special night.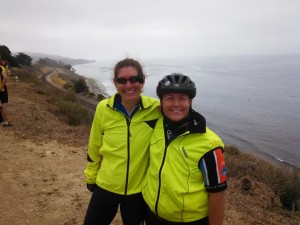 On the beach at Ventura, all the riders, roadies, friends, families and other guests are welcome to come for a candlelight vigil. Each member is given a candle and as over 2900 individuals walk over the dune to the edge of the beach each of those candles are lit from the flame of a neighbor. Silent. Just the crashing of the waves and the sliding of sand under feet. It's a personal moment possibly spent reflecting on the past 6 days, possibly remembering a friend or family member lost to AIDS, possibly taking stock in all that lies ahead. Each person shares the space creating an unbelievable sea of candlelight but everyone's reason for riding is personal. I invited my mom to this as well, and with the awe and wonder that the whole ride had inspired in her, we shuffled over the sand dunes and witnessed the sea of candlelight together. I loved sharing this moment with her. This reflection. This moment when the reason for riding all makes since. It is the perfect way to close out the nights on the ride.
And then it is Day 7. The last day. The final 60 miles to Los Angeles. The end of the fun, the journey, the porta-potties, the sore butt, the crack bars (an unbelievably tasty combination of graham cracker, peanut butter and jelly that just can't be replicated and trust me I've tried!), and the challenge from saying that one word- YES!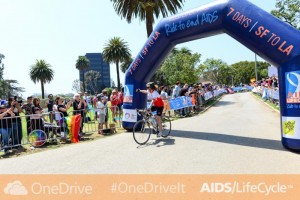 And as I rode my bike under that huge inflatable arch (look closely and you can see I'm waving at my mom next to the rainbow flag) announcing the end of 7 days, the end of 545 miles I realized that this ride truly had been different. I had to give myself personal physical restrictions  and hold to them in order to prevent injuries when my body was trying to tell me that I could do more regardless if I couldn't do anything the next day. Frustrating to say the least. And as for my introverted self freaking out about an unknown, scary tent-mate, well I rode across the finish with that person—an amazing woman and if anyone questions if they are physically able to do the ride, well this woman can be a wonderful example to follow—she is a cancer survivor. She is a a woman who put me to shame in her energy, her enthusiasm, her humor, her commitment to ride (her 7th ride), and her ability to overcome personal challenges and still come out ready for the next one. A woman I am proud to call my friend. And overall, I learned that I love giving back and I loved that I finally got to share this experience with my biggest supporter, my mom!!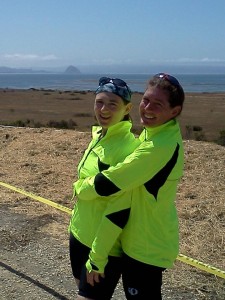 I thank everyone for the following me along the ride for liking my pictures and offering fun comments to read, and for asking me how I'm doing. Without each of them, this third ride would not have been possible. The sad thing about this blog is that it does such a poor job of describing the ride. I mean how can I really convey what it's like to live in tent city. Or what it's like to lose your bike in the midst of thousands. The feeling of accomplishment of pedaling your sore butt off! And the feeling of fitting in with the wild and crazy Red Dress day that makes a ribbon of red riders along the highway. This sounds like a cliché but it is something that has too be experienced in order to feel the impact, the emotions, the love and the overall joy of doing something that helps so many. I would love for anyone to contact me and tell me that they are going to do this ride with me next year. Or that they are going to volunteer as a Roadie. Or that they found a way to say "YES!"  to a challenge! Making those stories, those memories and that adventure called LIFE! You won't be disappointed!!