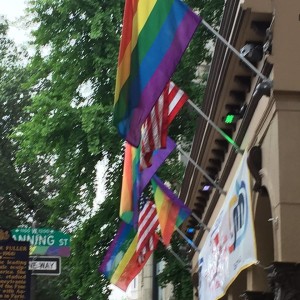 Pride and Prejudice
By Diane Marina
Recently, I traveled to Philadelphia to attend a publishers' conference. I'm originally from Pennsylvania, and despite living outside of the state for the last 20+ years, Philly in particular holds a special place in my heart. The city is where I spent much of my free time after coming out in my 20s. Philly was the place I turned to when I wanted to visit a gay bookstore or lesbian nightclub. So traveling to the city was a trip I was looking forward to. Walking down Spruce Street, toward the center of the Gayborhood, filled me with happiness and fond memories. Rainbow-colored street signs dotted each corner while short-shorts-clad men darted in and out of shops, holding hands and loudly celebrating a warm, sunny Sunday evening. As I meandered through the streets, I followed a straight couple, exhibiting similar PDAs. The male swung his arm casually around the woman's shoulders as they treaded along the busy sidewalks ahead of me. A male couple holding hands and swinging them between their bodies, passed us and suddenly, the scene went from a carefree day to a disturbing scene. The male in front of me stopped and turned his head to watch the men, an obvious sneer on his face. He turned his head until it would turn no further, made his displeasure clear, and then continued on his way with his arm tight around his significant other.
Pause scene right here. If we'd been in a television sitcom, a sound-over of a needle scratching across a record would have been the perfect soundtrack. This was THE GAYBORHOOD, and it's 2015, right? Things should be so much better than they were 20-odd years ago when I walked these same streets and saw the same reaction. I was disheartened as I returned to my hotel.
Despite the fact that 20 years have passed and gay couples displaying affection are still getting reactions like the one I described above, there has been some forward movement in my home state. Sure, same-sex marriage was legalized in the Keystone State in 2014, but prior to that, there was no recognition for civil unions or domestic partnerships, and it was the last state in the northeast to legalize same-sex unions.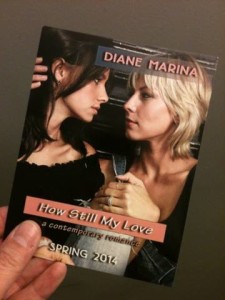 Another discouraging fact is that Pennsylvania is but one of 15 states that have hate crime laws that DO NOT include crimes against others based on sexual orientation or gender identity. And in recent months, three 20-somethings, two males and one female, were arrested for allegedly assaulting a gay couple who walked by them in Center City Philadelphia. The attack came after the couple was met with slurs, words were exchanged, and the physical violence ensued. I think how quickly the scene mentioned above could have resulted in the same consequences had the male couple seen the look of disgust thrown their way, and wonder what the solution is.
Now, I'm not specifically picking on my home state – I just expect better from my fellow-Pennsylvanians. If we can't feel safe and protected in the City of Brotherly Love, my safe haven as I was coming of age, what hope do we have that we'll be welcomed anywhere else? We need laws on the books that protect us, but more than that, we need a better education system that teaches that we are not a community that deserves sneers or violence directed at us.
Authors Michael Bronski, Ann Pellegrini, and Michael Amico sum up the solution in their book, You Can Tell Just by Looking: and 20 Others Myths about LGBT Life and People. "We need to address violence and hatred on the most basic interpersonal levels and at the level of small communities. Working within communities, schools, neighborhoods and organizations to examine the racial, economic and psychological reasons that are often underpinning these crimes will move us beyond the simplistic rhetoric of an ambiguously defined 'hate'."
And we in the community need to do our parts by continuing to be brave like the couples strolling hand in hand. Education begins with visibility – we need to come out and be as open as we can by being every-day examples of why we deserve respect.
Happy Pride!
Reference
Bronski, M. Amico, M., & Pellegrini, A. (2013). You Can Tell Just by Looking: And 20 Other Myths about LGBT Life and People. Boston, Massachusetts: Beacon Press.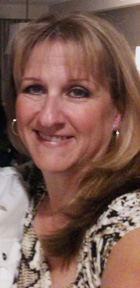 Bio
Diane Marina lives in the US, and is she is the author of the short stories Landslide and Imperial Hotel, as well as a full-length novel, How Still My Love. Look for her upcoming collection of short stories, It's Only Love, coming this summer.
When not writing, she spends her time working toward a degree in Sport and Health Science, reading, hiking, running, and traveling. When she's not traveling, she's dreaming of all of the places she'd like to visit.
Contact Diane: Website, Amazon Site, Facebook, Twitter and Email.