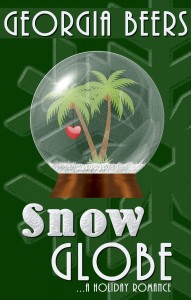 Georgia Beer's novel "Snow Globe" is a holiday romance, and boy does Mackenzie need it. Christmas loses a touch of its magic when your fiance breaks up with your days before your wedding, via text of all things. Well Mackenzie has her share of meltdowns, but she has a secret weapon, her best friend Allison. Allison has an unending supply of blonde jokes, and is determined to see Mackenzie through this rough patch. Though surprisingly, Mackenzie has a breakthrough on her very own. Sit back with some hot cocoa and listen to Georgia reveal how Mackenzie plan unfolds.
Click to buy: Snow Globe
Contact Georgia:
Website: georgiabeers.com
Email: georgia@georgiabeers.com
Twitter: @GeorgiaLBeers
Facebook: facebook.com/georgia.beers.14
Blog, email, and links to all of Georgia's
work can be found on her website.