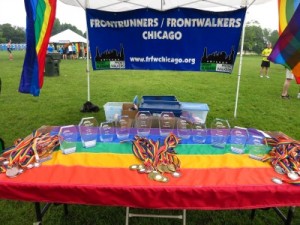 Proud to Run
This is my 35th race but my first race in over a year. I'm travelling to Chicago as part of my conference trip. After I booked my flight, I started looking into races during the time I'm in town and Proud to Run was one of two feasible events. Everyone I talked to was unanimous in saying I was crazy to run a race the day after I arrive on a 15hr flight but, well, I registered anyway. In my mind, it was only a 5k. Famous last words.
I was tired on Friday when I arrived and I was very, very tempted to DNS. I didn't sleep very well either, but I woke up with the alarm at 5.15am so I thought since I was up, I'd go anyway. I arrived early so I can find parking and do packet pick up. Parking was easy, I parked 5mins' walk away at beautiful Montrose Harbor and I was one of the first to pick up my stuff. This meant I had loads of time before the official race start. I did a mile of warm up, queued up for the portaloo, grabbed water and generally hung around until it was time to start.
Official race start was 8.15am and they were punctual to the dot. I kept up a steady slow pace and didn't significantly speed up when I got overtaken by what seemed to be the entire field. The course went north towards Foster and it was just like I was back on my home course. I got to the 1 mile marker just over 12mins and the 2 mile marker around 25mins. Mile 3 was tougher as it got hot, there was a point when I felt I was becoming overheated, a little dehydrated and my left knee started tingling. But I kept trudging on and managed to pass a few racers who had slowed to a walk. As the finish line came into sight I watched the clock tick close to 40mins but I got in just under 40mins. Considering I was jetlagged, not trained and still carrying an injury, I'm reasonably happy with the result. It's a long way from my sub-30 PR, but it'll be a while before I can hope to PR in any race.
This was the 33rd PTR race, which the organizers described as:
an annual 10K run & 5K run/walk focused on celebrating pride in a healthy way and raising funds to support the greater Chicago area LGBTQI&A community
I don't know about prior races but this year's race took place over Pride weekend. The race participants were mostly regular racers, a few were in rainbow accessories–socks, ribbons, balloons and such like.
Lining up at the start I was next to two women, one of whom was in a tuxdeo t-shirt and both had "bride" printed on the back of their t-shirts. They graciously allowed me to take their photo and told me that they were getting married in September. So wonderful.
I also caught the deputy director of the event who was carrying an official rainbow flag, we walked and talked for a few steps after the race and he was super nice, asking about my opinion on the race course and organisation.
I'll be perfectly honest, my motivation for running the race was timing: I was in town for a short window of time and I had limited choices. It wasn't particularly a desire to take part in Pride weekend. I have been to Chicago Pride once, in 2008, and I've been to a couple of Northalsted Market Days. I'm pleased I made the effort, it was a good race and definitely fulfilled the organinsers' goals. I felt privileged to congratulate the two women on their upcoming wedding, and to see all manner of people and couples happily co-mingling at an event–the way it should.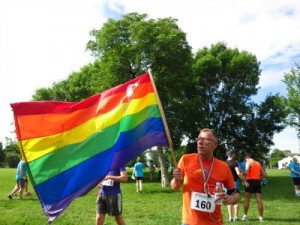 In real life I'm low key and don't draw attention to myself; it's only online that I'm able to be out. I see all the developments in recent years from my external vantage point, with more and more countries and US states adopting marriage equality. I really only have one wish, that everyone can go about their business freely; that it'll be just marriage and not same-sex marriage, that it's nothing special to have one parent, or a father and a mother, or two fathers, or two mothers, or any other combination, that people are treated according to their behaviour and ethics rather than some random label. That everyone practice what we are taught: to accept and love and not judge. The end goal, is to make it Not. A. Big. Deal. Does it mean that we will no longer need events like Pride or Proud to Run? No, the energy devoted to fighting for recognition can be used for celebration instead. That day will come.
Part of this post originally appeared on invisiblecompany.com.