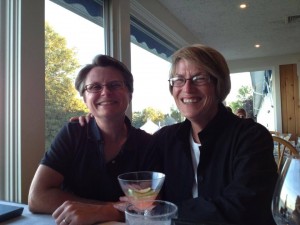 Casting Notes
The title of this guest blog is a double entendre. And for once, I didn't intend that.
It's amazing how things come together.
The facts are these. For nearly two years now, I've been hammering away at a book called Backcast. I had no idea when I took up this project that it would end up being my magnum opus. Even more, I had no idea when I took up writing that I'd ever have a magnum opus. But it appears that I do, and for good or ill, this book is it.
Still. I make progress. And during the occasional hiatuses I take from my Great Work In Progress™ (hereinafter cited as GWIP) to recharge my battery or pursue other ideas that just won't wait, I've had some modest successes. Hoosier Daddy, written with my lovely wife, Salem West, was a 2014 Lambda Finalist. A story collection, Three, just won a Goldie Award. And my secret, family recipe for "Outpatient Fruitcake Clusters" was shortlisted for a James Beard Award.
I lead a rich and storied life.
But for today, I thought I'd try to answer some of the concerns and questions that swirl around this elusive and, some would say, nonexistent book. And I think one of the most interesting ways to do that is to let you take a peek at some of the backstory that churns just beneath its surface. Like any work of fiction, Backcast will succeed or fail based on the strength of its secondary characters. Collectively, they form the structural underpinning that supports the main narrative. Consequently, who and what they are and how realistically they're portrayed become paramount considerations for an author.
And I'm not alone in believing that.
It was at this year's Golden Crown Literary Society conference in Portland that one of our great talents, Elizabeth Sims, talked about this very idea. She went on to describe how mystery writer, Elmore Leonard, forced his own characters to "audition" for ink in his books.
This is how he described that process in a 2004 NPR interview:
"From the very beginning, my purpose was to let the characters talk. To first of all establish the characters, as many as possible in the first 100 pages and audition them…if they can't talk, they're liable to slip from view or get shot early on."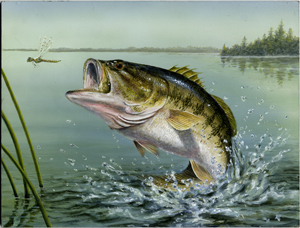 I don't know that I've ever been tempted to shoot any of my characters for refusing to speak up—but I do have to admit that it's an idea with some merit.
Still. I do make my characters audition for their supporting roles. And I thought it might be interesting to share to some of the casting notes from one such encounter. This example, of course, hails from my GWIP, and the all-important casting of the larger-than-life bass named Phoebe. So without further ado, here is how that epic encounter unfolded.
[Note: the actor auditioning is referenced by the name of the character she's reading for.]
Ann McMan Famous Author: Hello, Phoebe. And thanks for coming today.
Phoebe: [silence]
AMFA: Well. I suppose you'd like for me to tell you a little bit about the part you'll be reading for?
Phoebe: [silence]
AMFA: Right. Okay. Well. The story takes place at a country inn in the Hero Islands of northern Vermont. Thirteen characters from my novella "Bottle Rocket" are reunited there to work on companion narratives to an NEA-funded sculpture exhibition called "Transitions." While they are there, they enter a tournament bass fishing competition. Do you have any questions so far?
Phoebe: [silence]
AMFA: Okay. Well. "Phoebe," a twenty-five pound bass, is the stuff of legend. Anglers say she has been swimming the waters of Lake Champlain since the Civil War. She was named for a 19th century, Canadian axe murderer, Phoebe Campbell. Although Phoebe's disposition may rival that of her namesake, the locals are quick to point out that "she ain't never been caught."
Phoebe: [silence]
AMFA: [silence]
Phoebe: [silence]
AMFA: Okaaaaay. Let's get started. You have some pages in front of you. I think it's the scene where Phoebe meets Quinn for the first time. How about you take it from the top, and let me hear what you've got?
Phoebe: [glances at the pages] I'm not reading this.
AMFA: I don't understand…. Why not?
Phoebe: [shoves the pages across the table] It's crap.
AMFA: Excuse me?
Phoebe: You heard me. It's drivel.
AMFA: I'm sorry?
Phoebe: You should be.
AMFA: Hey. Wait a minute….
Phoebe: Seriously? This shit reads like a bad Georgette Heyer novel.
AMFA: Well, that hardly seems—
Phoebe: Not that Georgette Heyer ever wrote a good novel.
AMFA: Could we please dial back the attitude?
Phoebe: Do you always talk about yourself in the third person?
AMFA: What? I'm not….
Phoebe: No wonder you write such wooden dialogue.
AMFA: I don't think that's a fair description of my work.
Phoebe: Oh, come on. Listen to this: "Her eyes glowed like chips of blue sapphire."
AMFA: Well….
Phoebe: Kind of makes you throw up in your mouth a little bit, doesn't it?
AMFA: Okay. That's enough.
Phoebe: We finally agree on something. You really need to cut that shit out.
AMFA: What shit?
Phoebe: [slapping a fin on the pages] The overblown language. Nobody fucking talks like that. You really have a problem here.
AMFA: Well….
Phoebe: You should read some Hemingway. I think it would help.
AMFA: Hemingway?
Phoebe: Yeah. And he could probably teach you to do a better than half-assed job writing about fish, too.
AMFA: This isn't really why we're….
Phoebe: I can see now why it's taken you five years to get this book half finished.
AMFA: It hasn't been five years….
Phoebe: Really? That's not what the IRS thinks.
AMFA: Well….
Phoebe: Look. As much as I'd love to stay here and chat, I've got an AA meeting at noon. You have my digits. Call me when you're ready to start reworking my scenes.
AMFA: But I haven't decided….
Phoebe: McMan? It's time for you to fish or cut bait. [laughs at her own joke] See? Even I have better comic timing. Ciao mein, baby. [exits]
End of tape.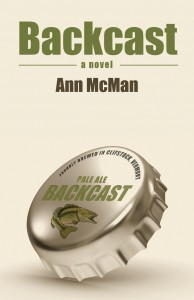 Of course, she got the part. I may write wooden dialogue, but I'm not stupid.
With luck, and a great deal of rewrites, Bywater Books should have Backcast ready for prime time in 2015. I ain't saying when, because right now, my head has totally been turned by the irreverent, pulp fiction tale of a nurse iconoclast named June Magee, R.N.
But that's another story….
Contact Ann: Twitter, Facebook and Website.
Ann McMan is the author of four novels, Jericho, Dust, Aftermath, and Hoosier Daddy, and the short story collections Sidecar and Three. In 2011, Ann, along with her novels Jericho and Dust was elected to The Royal Academy of Bards Hall of Fame. In 2012, she was awarded the Alice B. Lavender Certificate for outstanding debut novel. Her story collection Sidecar won the 2012 Rainbow Award for Best Lesbian Contemporary General Fiction, and Jericho won Honorable Mention in the same category. Both Jericho and Dust were finalists for Golden Crown Literary Awards in 2012.
Ann was one of 25 emerging authors invited to write an introductory essay for the Lambda Literary Foundation's 25 for 25: An Anthology of Works by 25 Outstanding LGBT Authors and Those They Inspired. Her book, Sidecar, won a 2013 Golden Crown Literary Society Award for best short story collection. Her novel Aftermath was a finalist and Honorable Mention in the 2013 Rainbow Awards. More recently, her novel Hoosier Daddy was a 2014 Lambda Literary finalist, and her short story collection, Three, won a 2014 Golden Crown Literary Award.