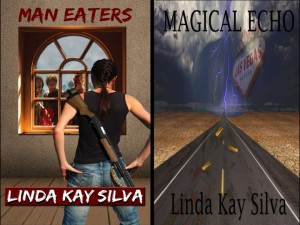 Linda Kay Silva, Alice B. Toklas Award winning author, graced the Liz McMullen Show with her wit and wicked sense of humor. Her latest releases have it all:
Magical Echo. Check.
Hot Paranormals. Check.
Fierce Brilliant Gun Toting Femme. Check.
Oh HEELLLL NO! Check
And thanks to Man Eaters, the newest addition to her novel series family: Zombies. Check.
When not laughing and regaling, Linda and I talked about the craft of writing. I learned a lot from our chat and encourage you to spend a little more time with Linda. She is doing a GCLS webinar (online version of a seminar) on Developing Characters on May 18th. There is still time to sign up: http://www.goldencrown.org/Silva.
Click to buy: Man Eaters

Click to buy: Magical Echo