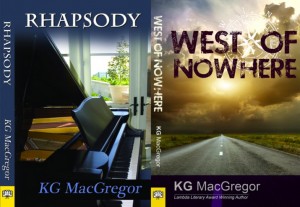 Lesbian fiction Trailblazer KG MacGregor got her start in the Xenaverse, writing lesbian fan fiction. KG is proud of her fan fiction roots, and they are proud of her too, in 2011 the Royal Academy of Bards gave KG a Lifetime Achievement Award. KG has a diverse body of work, from page turning thrillers to homespun romance. We talked about the craft of writing, then got into a discussion about politics and the state of civil rights, both for the LGBT community and women in general. KG has quite the head of her shoulders and I enjoyed our chat.
"Rhapsody" is about a news anchor, Ashley, who is struggling to overcome her abusive past. Her public persona allows her to keep people at a polite arms length. She may be safe from a distance, but she is also very lonely. Her hairstylist Julia, along with Julia's colorful tight-knit group of friends, offer Ashley an alternative to isolation. Is Ashley willing to put in the work necessary to build a new life or will she slink back into her comfort zone?
Amber Halliday is coasting through life, clinging to whomever is willing to put a roof over her head and food in her mouth. Nothing is for free of course, but she managed…until her current boyfriend abandoned her at the side of the road. When Joy, a friendly stranger, offers her a ride out west, Amber takes it. Joy is not interested in taking over her ex-boyfriend's role, instead she offers Amber a job. "West of Nowhere" is about Amber's journey. Will she be able to stand on her own two feet, or will she lean back on old habits?
Both books offer a journey, you'll have to join the characters in their struggles to see if they will meet their goals.
Click to buy: Rhapsody
Click to buy: West of Nowhere
Contact KG:
Website (with blog): kgmacgregor.com
E-Mail: kgmacgregor@yahoo.com
Facebook: facebook.com/kg.macgregor
Publisher: bellabooks.com