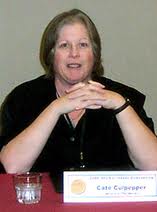 Cate was a lovely friend and a generous soul. She inspired me with characters so real, I wanted to join the Tristaine Tribe. Even though I have only met her through my show, she touched my heart. Take a moment to get to know her through her appearances on my show:
Episode 2: Amazons of Tristaine and A Question of Ghosts
Episode 53: Windigo Thrall
Gender & Sexuality Series: Mental Health
All of Cate's books can be purchased on
Bold Strokes Books website.